Dashboard
Welcome to SenseCheck
Co-ordinate with your team, clients and beneficiaries in one place with AML checks, secure document sharing and real-time updates out of the box.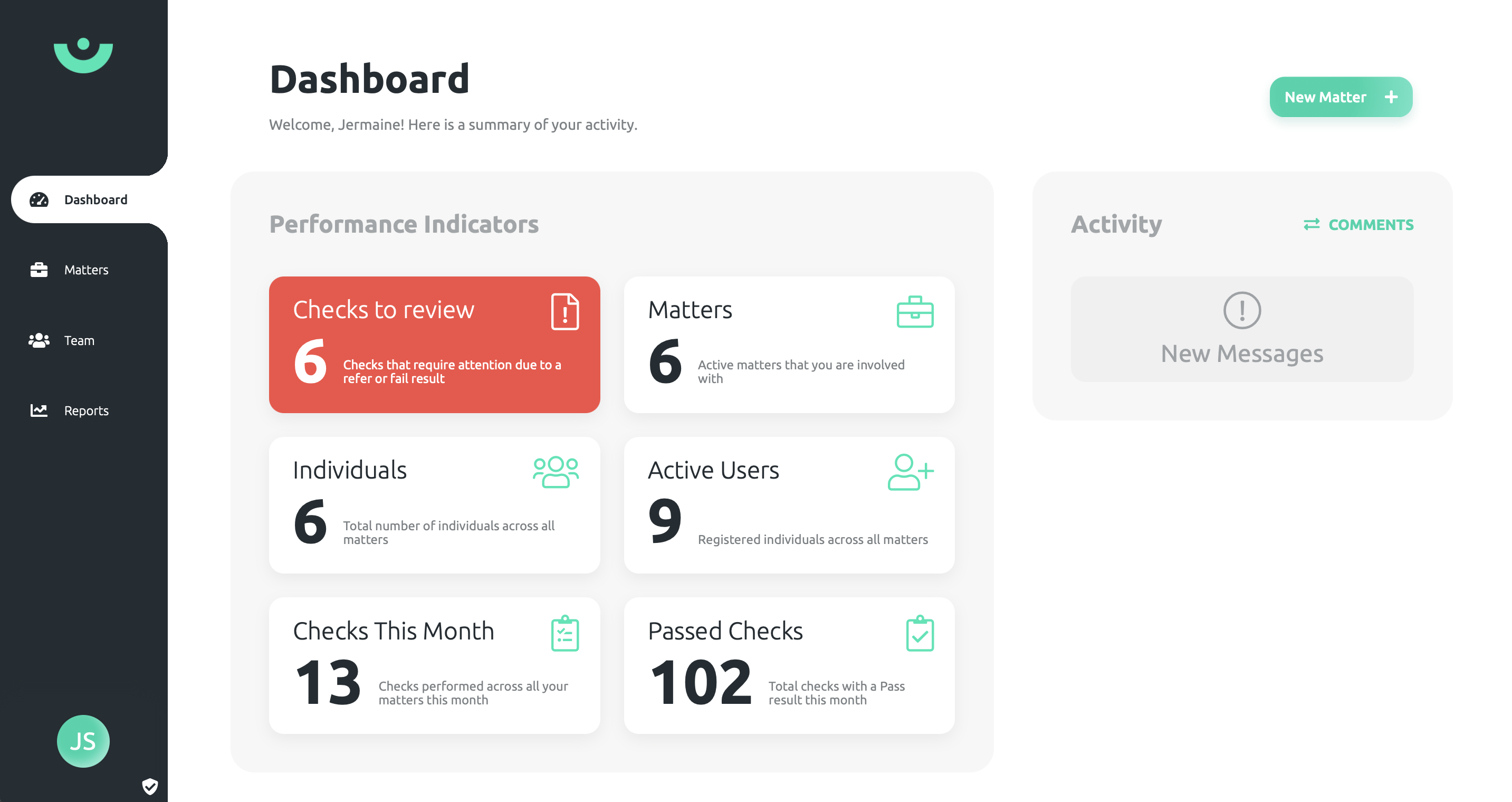 Get on the same page
Streamline legacy communications with SenseCheck
Say goodbye to slow correspondence and hello to a secure, efficient, and easy-to-use communication platform designed for lawyers and charities
Real-time, secure chat

Communicate with lawyers, executors, charities, beneficiaries and other stakeholders in a secure and efficient way, reducing time and cost.

Insight dashboard

Get an overview of your legacies process and track progress with ease.

Structured legacy workflow

Standardise your legacy notification process and manage your legacy engagements with ease.

Bank verification and AML checks

Ensure compliance and reduce risk with built-in bank and AML checks.
Our Mission
At SenseCheck, we're on a mission to simplify legacy co-ordination through better communication. We believe that by simplifying legacy co-ordination, we can help our customers save time and money, while also ensuring that legacies are put to their best use. We're committed to being innovative, always improving and making a difference.
Working with the best
Our partners
SenseCheck is proud to partner with leading firms and institutions in order to serve our clients.
Communication between lawyers, executors and beneficiaries has - until now - been time consuming, insecure, and repetitive. SenseCheck enables parties to save time and administer estates more effectively.

Jay Smith

Founder, SenseCheck
Expertise where it counts
Meet our leadership team
Industry experts with decades of experience in the charity, legal and compliance sectors.
Nigel Jesson

Co-Founder & Commercial Director
Support
How can we help?
Our team is here to help you throughout your journey with SenseCheck.